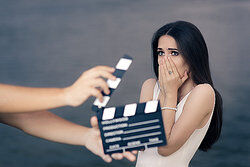 Soap opera-style ESL lessons can provide great opportunities for adult students to address communications skills. Using these romantic dramas as a basis for lessons helps break down language barriers that can prevent candid communication about personal and relationship issues. These types of learning tools can also provide helpful practical applications, allowing students new to the English language greater opportunity to have clear conversations involving personal issues. Character role play may also ease anxieties students have about discussing issues in English.
Soap opera ESL is a unique concept that teaches English language learners both communication as well as practical resources and language skills to deal with controversial or personal issues. Students gain additional knowledge of introductions and casual conversation skills.
Many of these lesson plans have a wide variety of activities to complement the dramatic short stories often used in lesson plans for adult ESL activities and conversations. These exercises may stress language concepts in a fun and engaging way for students.
ESL soap opera lessons may include:
Listening and comprehension - Students listen to audio or view audio-visual materials that tell a story with characters experiencing specific life situations. Teachers may hand out comprehension work sheets following the excerpts to assess how well the students understood the story.
Vocabulary activities - Worksheets or oral vocabulary builders based on words in the soap opera can help ESL students grasp new words and insights.
Discussion and speaking activities - This may include pre and post lesson questions and discussions. It may also include role play or dramatic re-enactment of the scenes.
Additional activities may include contextualization of vocabulary words, quizzes or tests, and trivia games based on the dramatic excerpts.
ESL Soap Opera Lessons and Resources
Creating Your Own ESL Soap Operas
There are many ways to use the soap opera concept in teaching adult ESL students. One way to create a lesson is to break students into groups and assign them the task of creating their own mini soap opera that will be enacted for the class. Assign base topics and provide a few interesting props. Make sure students are familiar with the soap opera concept prior to starting the assignment. Some teachers find that showing a brief clip of an actual soap opera can help the groups come up with ideas.
Teachers can also use English learning soap operas as a break from regular lesson plans, but have the students conjecture about what will happen in the next episode. The hooks of the stories can keep interest levels high, while conjecture and review will help with comprehension.
Additionally, teachers can use soap operas to help students identify cultural differences though the characters' behavior. The exaggerated interactions of characters in the programs may help students recognize cultural undercurrents and differences.