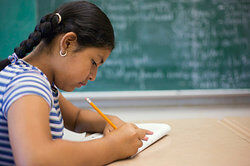 If you are an English as a second language (ESL) teacher then you might teach a lesson on sight words for ESL students. A lesson like this is not unlike any other sight words lesson; the only difference is that the focus is on students whose first language is not English. This is important to note because, when teaching sight words for ESL students, it is important that you have a certain level of patience.
Sight words, which are also known as high frequency words and word-wall words, are simply words that students learn by sight instead of by sounding them out. They are the most commonly used words by students.
Usually the two lists that teachers opt to choose from are the Fry and Dolch list of sight words. However, for ESL teachers many opt to use the Oxford sight words to better improve upon the vocabulary of the ESL students.
Some ESL teachers feel that the Oxford list of sight words can be more readily recognized by their ESL students. Many of the words in the Oxford list are used regularly in newspapers, book, and online texts. The Oxford wordlist is preferred by ESL teachers because they can be customized to better fit the learning needs and goals of individuals.
Compiling the Oxford Wordlist
Compiled by on board researchers at the Oxford University Press, the Oxford wordlist is a relatively new sight word application that caters to ESL students.
Each wordlist can be separated into the following categories:
Grade level
Gender
Indigenous speaker
English or Non-English speaking background
Residential location (does the student live in an urban, suburban or rural area)
Each wordlist is based on contemporary writing styles and samples of students. This gives the lists colloquial language words in them.
Another advantage of the Oxford list is that there are lists that are relative to certain writing types or styles. For example there are writing lists available that are catered to students who are learning about narrative writing.
Benefits of Using the Oxford Wordlists
Since the Oxford wordlists can be referenced by either writing styles or grammatical methods, ESL students can better learn about English as an overall language.
Using the Oxford wordlist with their phonics lessons which might make learning phonics that much easier.
ESL teachers might see the Oxford lists as an instrumental part of the process when teaching vocabulary words.
Actually, while both are exceptional for teaching sight words to student with English as their native language, either sight word list seems to be the list of choice amongst ESL teachers.
Many times teachers use the words from either the Dolch or the Fry list on worksheets and vocabulary games to better help ESL students.
Sometimes teachers may even use crossword puzzle forms to better teach sight words to their students.
They may also opt to use PowerPoint presentations to make a flash type of movie where the sight words can be animated to better illustrate the words they are trying to get their ESL students to memorize.
There many other activities that teachers can use when trying to teach sight words to their ESL students. Creativity is always essential and quite often, devising activities focusing on sight words for ESL students is an excellent practice.
For more information on teaching methods or resources to use when teaching sight words to ESL students, it may be a good idea to go on the Internet and download sample lesson plans.