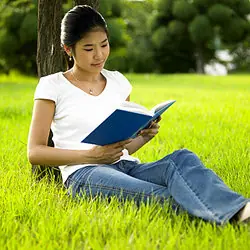 Finding short stories for adult ESL students is one of the most important things an ESL teacher can do to promote learning. Reading is especially important since it touches on every aspect of language acquisition.
Students can practice their oral skills by reading aloud.
The stories and essays they read show proper sentence structure and syntax in action while giving them ideas for their own writing.
Developing reading comprehension improves vocabulary and makes it easier for the students to follow directions, do research and perform other reading-related activities.
Reason for Short Story for Reading Practice
The bottom line is that literary fiction, short stories in particular, is as important for ESL learning as essays, news articles or anything else the instructor might present.
The subject matter and the presentation are typically more engaging.
The idea of reading a story, as opposed to an expository essay, injects an element of fun into the class.
In general, fiction writers are more experimental in their prose, some even bordering on the lyrical. This provides rich examples for the students' own writing, allowing them to experiment with sentence structure and phrasing. Literary works also offer new and interesting challenges in comprehension in an enjoyable atmosphere.
How to Choose Appropriate Material
The stories should be short enough to read in a single sitting, somewhere between five and ten pages depending on the skill level of the student.
The student's skill level also governs the style and complexity of the story under consideration. The more basic the learner, the more basic the story should be, regardless of the student's age. The last thing you want to do is turn what should be an enjoyable experience into an exercise in frustration.
With that in mind, here are a few additional tips to follow when selecting a short story for an ESL student:
Keep to reasonably contemporary fiction, 1930s and newer.
The language should be challenging, but not overwhelming or obtuse.
The storytelling itself should be straightforward, the plot fairly easy to follow for a native speaker of English.
The temptation some literary folks feel to inject some of the classics of nineteenth-century British literature, like Stoker's Dracula or Conan-Doyle's Sherlock Holmes, into the curriculum should be resisted as much as possible. True, Britain produced some amazing literature during this period and many of these are considered classics today. However, the language tends to be dense and difficult even for many native speakers of English. ESL students have plenty of time, once they master the basics, to tackle these more advanced pieces.
Genre fiction is a term that refers to a story that is clearly within one of the highly identifiable genres or types of fiction. The major genres include:
Romance
Western
Science fiction
Horror
Mystery
Thriller
You do not have to stay away from genre fiction, but you do need to be cautious.
A good rule of thumb is to keep to genre pieces that are as close to mainstream as possible. Poe's The Cask of Amontillado will likely be an easier read than something out of Barker's Books of Blood. This is not due to the language - Barker would probably be easier from the language perspective - it is due to the subject matter and the intensity of the images. You may encounter someone who has never read such a story and really will not know how to process it.
Not every author listed below is appropriate for every ESL student; but, there is enough overlap to cover the needs of most ESL students. The stories are fun, inspirational and thought-provoking, guaranteed to bring about great in-class discussions and response essays. However, most importantly, the writing is accessible for adult ESL students:
Earl Derr Biggers - The creator of the classic Hawaiian detective, Charlie Chan.
Jack London - Author of The Call of the Wild as well as great short stories.
Edgar Allan Poe - The Pit and the Pendulum, Never Bet The Devil Your Head and others.
George Orwell - Best known for his unforgettable novels 1984 and Animal Farm.
Dashiel Hammet - The creator of detective Sam Spade and author of The Maltese Falcon.
Raymond Chandler - Another writer of hard boiled detective stories centering around his character Philip Marlowe.
John Steinbeck - Considered a quintessential American author with his novels The Grapes of Wrath, Of Mice and Men and Cannery Row.
Ernest Hemingway - The author of The Old Man and the Sea, The Sun Also Rises and numerous other novels, he was also a fine short story writer.
Robert Bloch - Before writing Psycho, Bloch, like so many authors, got his start writing for the old pulp horror and science fiction magazines.
Stephen King - Probably the most popular author of all time with many short stories to his credit. Most, if not all, ESL students would have at least heard of King.
Ray Bradbury - A prolific author of science fiction, he is best known for The Martian Chronicles.
Online Resources for Short Stories
If you are looking for short stories that would appropriate for adult ESL students to read, the following sites offer guidance and online materials for both students and instructors:
Reading short stories provides the ESL student with an opportunity to practice reading, see sentence structure and see examples of English in the written form. Whether read as individual activities or used as the basis of class activities, short stories are a key part of the ESL lesson plan.