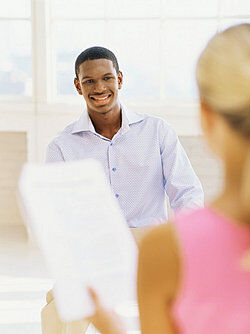 An ESL lesson on job interviews provides valuable and practical learning opportunities for students.
The best way to help ESL students learn more about job interviews is to have them experience a simulated one. The Internet TESL Journal offers a sample job interview lesson plan to get you started. Mock interviews can take place as a role-playing exercise in small groups or in front of the class. If it's possible at the beginning of the unit, ask another teacher to join you in presenting a sample demonstration to the class. This model will help students better understand the elements and structure of a job interview. They can then begin their own preparations with more confidence.
You can use common interview questions as inspiration, but you may have to adapt them to the vocabulary level of your students. Answering single questions, either verbally or in writing, is a good way to provide scaffolding to build up to the full interview.
Individual Vocabulary Lists
Although there are numerous generic job interview words, students should also learn terminology related to specific positions in which they are interested. Teachers can create lists of words necessary to discuss common careers ahead of time or work with each student to create a truly individualized vocabulary list.
Because so many interviews rely on questions about past experiences, this is a good time to teach students about past tense verbs, including irregular constructions, or to review past lessons on this topic.
Another aspect of most interviews involves job candidates describing their best attributes. This provides an opportunity to review earlier lessons on describing personality traits. It can also be a chance to increase students' vocabulary base in this area with work-related words like punctual and diligent.
Accommodating Different Age Groups
An ESL lesson on job interviews might seem most relevant to adult English language learners. However, students of all ages can gain new understanding from these activities.
Younger elementary school students may be best served by a lesson focused on careers and jobs in general.
In the upper grade levels the class could role-play an interview for a paper route or baby-sitting job.
Middle school and high school students can interview for age-appropriate jobs, such as bagging groceries, or participate in the exercises while keeping in mind a career they hope to have in the future.
Teachers can also use the lesson as a chance to discuss cultural attitudes towards young people working in various countries.
Lessons on Related Skills
An ESL lesson on job interviews presents the perfect opportunity for incorporating lessons on other job search skills. For example:
Reading help wanted ads – Bring in a pile of newspapers and discuss the organization of the help wanted section and common elements of ads seeking workers.
Using online job search tools – Introduce computer-related vocabulary while helping your students understand the ins and outs of using sites like Monster.
Job applications – Photocopy authentic documents to familiarize students with the format and vocabulary used on a typical application.
Resume writing – Practice sentence construction and descriptive writing while trying to summarize past experiences.
Cover letters – The process of writing a cover letter can help introduce students to the conventions of salutations and addresses in the English-speaking world.
Sending thank-you notes – After a mock interview activity, ask each student to write a thank-you note to his or her "interviewer."
The North Carolina Curriculum Guide from The Library of ESL Lesson Plans offers several lesson ideas for general career skills under its "World of Work" topic. If you work at a school with a counselor, he or she may be able to provide additional employment-related resources. By giving students templates and style sheets, you will be providing them with resources they can turn to long after the class has ended.