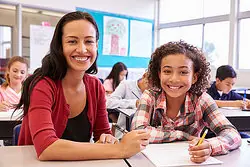 ESL practice activities for gender pronouns are an integral part of learning English. Without practice, ESL students will mimic their native language's pronominal structure, which may not be similar to the structure used in English. Following are some simple activities you can do with your class to practice gender pronouns.
ESL Activities for Gender Pronouns
Even though beginners learn the pronouns right away when they start English classes, it never hurts to give a quick review if students are having trouble. Remind them that:
The personal pronouns for a man are "he" and "him," and for a woman "she" and "her."
First-person pronouns, second-person pronouns, and the third-person plural pronoun are genderless in English.
Reflexive pronouns are "himself" and "herself," and the possessive pronouns "his" and "hers." (A good review point for high level beginners and intermediate students)
Make sure to differentiate between possessive pronouns and possessive adjectives.
Doing a warm-up that practices gender pronouns is good for beginner students, because it gives them a quick reminder of what they have been learning, and sets them up for success during the class period.
Choose a boy and a girl from the class to come to the front of the room. Whisper an action to each of them, and have the other students say what each is doing. For instance, "He is reading a book," or, "She is writing on the board."
Ask one student to describe another student using pronouns. Then the class will guess who the student is describing. The student may make statements such as:
He is wearing a blue shirt.
This black backpack is his.
I sit across the room from him.
He has a bandage on his knee because he hurt himself skateboarding.
Challenge students to use all the types of pronouns, if possible.
Have high level beginner or intermediate students write a short story with one female character and one male character. If necessary, write a prompt such as this on the board:
One day, Thomas went to the store. Anna was at the store, too. ______ ran into ______ in the cereal aisle . . . .
Ask students to use personal pronouns as subjects and objects, and also to use possessive pronouns.
Perk up your class by playing a pronoun game. Divide the class into small groups, and give each group a fashion magazine. Tell students that the object of the game is to listen to the description you will say and then find a picture that matches.
Say a short description of a feature or an action, such as, "He has blue eyes," or, "She is kissing him."
They do not all have to find the same picture, since your descriptions will be generic. The important part is for them to listen for the gender pronoun, so if you say, "She is wearing jeans," a group would be wrong to show you a picture of a man in jeans.
The group who finds a correct answer first wins that round, but you should wait until all the groups have found a correct answer to make sure they all understood the pronoun in the description.
Using songs in your classroom is a great technique for getting auditory learners involved. Students also respond to rhythm; so, if your class is dragging, bring out an appropriate song to perk up your students.
However, not all songs may be appropriate for your students; read the lyrics to popular songs carefully before using them in your classroom, especially with children or religiously conservative students.
For practicing gender pronouns, play one of these songs (or another of your choosing) and have students write down the pronouns they hear, or circle them if you hand out a lyrics sheet.
"A Most Peculiar Man" by Simon & Garfunkel
"I Saw Her Standing There" by the Beatles
"Livin' On a Prayer" by Bon Jovi
Fun ESL Practice Activities for Gender Pronouns
After going through some of these ESL practice activities for gender pronouns with your class, your students will be experts. And they'll have had fun, too!