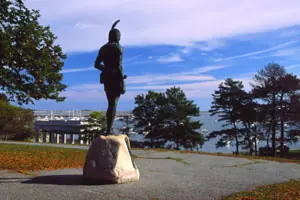 Elementary and middle school teachers often teach an ESL Pilgrim unit to fulfill social studies and history requirements. These types of lessons are typically taught in the fall to correspond with the Thanksgiving holiday. Students study the settlement of Plymouth, the Mayflower Compact, and other historical events to learn the early history of America from the colonizers' perspective. There are, however, other approaches to teaching a Pilgrim unit that provide a more Native American-centric perspective. A combination of these two approaches is necessary to most accurately portray this important part of American history.
Finding ESL Pilgrim Unit Resources
The following sites are geared towards a variety of age groups and approach the history of the Pilgrims from several perspectives:
Using Varied ESL Pilgrim Unit Resources
Even if some of the sites listed above are geared towards a different age group than the one you presently teach, take a close look at them anyway. An idea that is designed for a third grade class can often be made relevant to eighth grade students with a few minor adjustments.