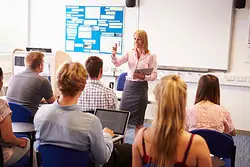 ESL activities on social issues can be a great way to spark a "natural" conversation in the classroom. Students most likely engage in discussions about social issues in their native language. However, talking about those same topics in a classroom in English is another thing entirely.
In many respects, a successful ESL conversation activity around social issues involves detailed and well-prepared lesson planning. The most important steps are finding the right topics suitable to your class, subjects that students are passionate about, and tailoring/adapting lesson materials to meet students' language levels.
As a teacher, only you will know what kind of topics will be easier to broach with your students than others. There are certain factors that will have to be taken into consideration, such as culture, age, language level, etc. Before tackling a particular social issue in the classroom:
Try to anticipate how willing (and able) students will be to talk about the topic.
Ensure that your materials are professional and unbiased.
The worst-case scenario is causing offense to students' cultural background, religion, government, etc..
The social issues you choose could fall under the following categories:
Close to Home - Topics that are in the news in your students' home country (particularly if teaching in monolingual classroom)
Far & Away - Issues that are happening in other countries abroad
In the Future - Talking about future social trends (home country and/or abroad)
It's important to keep in mind that you could also gauge students' interest in particular topics by bringing them up casually in conversation or providing them with a list of topics for a class vote.
Resources for Social Issue Topics
Here are some links to topics on social issues that might be of interest to you and your class. Although most are aimed at Intermediate to Advanced levels, there is room to adapt to lower levels.
As most ESL teachers have experienced, sometimes it is best to create your own lesson materials, as you can better structure and organize to ensure that most of your students' needs are covered in a lesson. Wherever you may be based, don't forget that your local newspaper, TV, and radio stations can also be excellent materials.