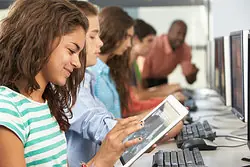 ESL instructors with access to networked classrooms are becoming increasingly interested in the benefits of using e-portfolios for teaching English as a second language. By encouraging students to publish their writing in the form of an e-portfolio that can be viewed on the Internet, different classrooms can access each other's writings and comment back through the Internet.
There is a belief in some circles of the ESL teaching community that a more traditional approach to teaching English is better for the students. This argument claims that technology acts as an additional filter which further complicates their second language learning. It is believed that focusing on the fundamentals of language learning, such as grammar and semantics, rather than computer skills is in the best interest of the students.
The prevailing methodology, however, is one that acknowledges the importance of technology in the modern world and promotes the integration of computers in all classrooms. E-portfolios are an excellent device for supporting learning in the ESL classroom because they naturally encourage students and instructors to practice the most successful contemporary teaching methodologies.
Support ESL Learning with E-Portfolios
The use of e-portfolios in the classroom can help reinforce the philosophies behind today's flourishing teaching methods.
Research has suggested that pedagogies that are successful in native language classrooms are successful in ESL classrooms as well. Reading and writing are deeply interconnected as the keystones of language learning.
Instructors now know that the most successful way to teach both reading and writing is to focus on the process rather than the product. What contemporary instructors seek to accomplish is to teach their students that successful readers and writers, whether they are consciously aware of it or not, follow a process.
For example, reading a text is not as simple as just picking it up and reading it from top to bottom.
Readers contextualize everything they read and compare it to other things they have read in similar genres. If you are reading an editorial, you probably know that it will probably contain an argument because the editorials you have read in the past have all contained arguments.
Successful readers also read important pieces more than once and focus on different aspects in each reading.
In the same manner, great writers don't sit down and write a flawless draft in one setting. Revision is undertaken several times; all writers edit their writing or have someone else edit it for them when they are finished.
Because of the dynamic nature of e-portfolios, they are a fantastic tool to help students practice developing their reading and writing processes. When writing an essay, for example, students can easily rearrange their paragraphs and sentences when their writing is in an electronic medium. This helps to instill in students the idea that writing is not a static action, but rather one that continually evolves and develops.
If students are working in a networked environment, they will also have access to the wealth of reading resources that are available on the Internet. The most successful way for ESL students to practice their English is to read things that interest them in English. A classroom that encourages e-portfolios will also encourage using the Internet as a learning tool and allow students to find readings that are of interest to them.
One of the best ways e-portfolios can be a productive force in ESL classrooms is to use them to develop a sense of a real world audience in student's writing. One of the criticisms of classroom instruction is that it occurs in a vacuum. Students typically write with no audience in mind other than the instructor. When students write about a topic they are not interested in an audience who they feel is only interested in giving them a grade, it's no wonder their writing can lack a sense of exigency.
Once students put their work on the World Wide Web, it can be accessed by anyone in the school, in their life or in the world who has an Internet connection. This gives students the opportunity to have their writing read and responded to by people who they might not know. Writing is a communicative practice, and e-portfolios are an excellent tool to use to show students how to enter the conversation.
How to Create E-Portfolios
In order to use e-portfolios in the classroom you must have access to computers and an Internet connection. Many school districts provide a small amount of Web hosting space on the district servers for each student. This space can be used to create an online e-portfolio.