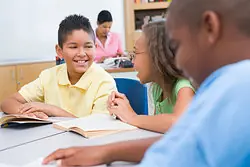 ESL getting to know you lesson plans are a great way to build camaraderie and comfort in a new class while imparting valuable English vocabulary and conversation skills.
Getting to know a new group of classmates provides a truly authentic scenario for language learning. Icebreakers work well as whole class activities.
One icebreaker that will really get students talking to their classmates is people bingo. The teacher creates a grid with descriptive statements in each square. Students must find someone matching the statement to mark off the square. If students aren't familiar with the idea of bingo, the same task can be accomplished with a checklist of questions.
Students can ask each other open-ended questions in an interview format. Paired activities can offer a more comfortable setting for students practicing new language skills. They may feel less self-conscious speaking in front of a single person instead of the whole class. In addition, they won't face the stress of being "put on the spot" when called on.
The opening chapter of low-level textbooks is usually dedicated to questions like, "What's your name?" and "Where are you from?"
Teachers can use the book's dialogues and exercises as a starting point for seatwork.
Teacher may also ask students to write a journal, essay, or letter of introduction.
While these ideas can help students learn to express themselves in writing and learn vocabulary related to meeting new people, they won't fulfill the larger objective of helping a classroom of new students become more comfortable with each other. A good idea is to start with individual activities and then lead into paired or whole class activities by asking the students to share their work.
Online Resources for ESL Lesson Plans
If you're looking for online ideas for lesson plans for ESL students, check out the following helpful websites:
Getting to Know Each Other Conversation Questions from the Internet TESL Journel: The list includes a wide variety of questions to get conversation flowing, including simple questions eliciting a single answer and open-ended queries like, "What is the best memory of our country that you will take back home with you?"
ESL Lesson Plans for Adult Classes: At each level, Unit Three: Effective Interpersonal Communication includes getting to you know activities suitable for the targeted students. All lesson plans are available as downloadable PDF files.
A Collection of ESL Lesson Plans: North Carolina ESL teachers provide three personal identification lesson ideas.
Additional Tips for Teachers
Consider these helpful tips when preparing ESL lesson plans for getting to know you sessions:
Consider the focus of the class before planning a getting to know you lesson. If the class is intended to be conversational, an individual worksheet activity may not be appropriate.
Tailor questions to the language level of the students. For instance, new English speakers can work with yes-or-no questions and queries requiring them to pick from a list of options. More advanced students can discuss their feelings and opinions on a variety of topics with open-ended questions. In a class of mixed ability levels, asking the advanced students, "Why?" offers additional opportunities for language use while ensuring others are comfortable answering the basic question.
Model a few question and response exchanges before setting students free to talk to each other.
A word bank can offer additional help in answering questions.
One final tip: Whenever possible, join in with the students in any getting to know you activities. This is a great opportunity to build rapport with a class.