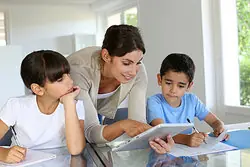 From the earliest grades through college, ESL learners often find that education is a bit of struggle for them; fortunately, by developing effective ESL classroom activities for elementary school students, you can start them on a pathway to success early in their educational careers.
These little ones will be able to gain a firmer understanding of the English language earlier in their lives when ESL teaching strategies are implemented into the lesson plans. As a result, they can start to build their vocabulary, understand the direct and implied meanings of words, and create a content in which they can absorb new material.
Understanding Elementary School Needs
To develop effective ESL classroom activities for elementary school students, you need to understand what these learners need. Essentially, elementary school students are in search of:
A framework for understanding school and the learning experience
Lessons that make sense to them in the classroom and in real life
Caring teachers who are dedicated to the students' success
Experiences that enrich their understanding of reading, writing, mathematics, and other disciplines
While youngsters are certainly not thinking in these exact words, creating and approaching lessons with these goals in mind will help you to better speak to all students, especially ESL students.
Effective Teaching Strategies
No matter what type of activity the students are participating in, some specific strategies exist that make sense for ESL students in the elementary school setting.
Make your lessons short - Little ones simply do not have the attention span to sit for great lengths of time without a break. This is especially challenging for ESL students who do not understand all of the words being used in the lesson. They might not be concentrating on what you are saying now because they are still trying to process something that you said a few minutes ago.
Diversify the lesson - You might lecture for a bit, have them complete some busy work, and then break them up into pairs or groups.
Create an environment that builds confidence - Provide many opportunities for ESL students to be right with their responses.
Keep an open-mind - Understand how a different perspective on a subject might lead to an answer you weren't expecting. This does not mean the answer was wrong.
Ask questions - Give your students a chance to answer the questions which have been raised in earlier class sessions; this gives your ESL students a chance to recall the information.
Use visuals - When you show a diagram, photo, painting, or other visual, the ESL students are usually able to understand what you are saying or writing.
Ideas for Elementary ESL Activities
Now that you have some general strategies for effective ESL teaching, you can start to design classroom activities to reinforce what you are teaching while you heighten your students' comfort with the English language.
Incorporate Other Disciplines
Reading and writing might be at the core of your lessons as an elementary school teacher, but bringing in other interest areas is important to reinforce their learning. It is particulary important for the ESL student, since activities can often give the student a chance to communicate without being afraid that they will use the wrong word.
For example:
Ask students to draw pictures describing what they have just read in a book or sites that they saw on a recent trip.
Have them create a picture that demonstrates a scene from history.
Ask them to play a musical instrument.
Encourage them to share a science experiment in a classroom presentation.
Modify Activities for ESL Students
If you have both ESL students and native speaking students in your classroom, you can often plan the same activity for all students, just modifying the activity where necessary to make sure it is effective for your ESL students.
Let's say that you are asking students to write a story using 25 vocabulary words. It will probably take longer for an ESL student to complete this task, since they are not familiar with all the words. Instead, you might consider reducing the number of vocabulary words that your ESL students have to include.
Writing a series of sentences or a full paragraph or story can be daunting for the ESL student. If the same activity is given to native speakers in the classroom, the ESL student might be embarrassed if they take longer to complete their activity. An effective modification is to give the ESL student(s) a sentence, paragraph or story with words missing. Have them fill in the missing words using a word bank that you provide.
Working with other students (either other ESL students or with native speaking students) in a non-competitive environment gives ESL learners the chance to see the strengths that they possess. They will learn that they have talents and skills to bring to the group that some of their peers may not have. This would be a real confidence-builder.
Drawing - Group murals give elementary students a fun way to express their feelings and show what they have learned.
Reading - Groups can be particularly effective in many ways, and one of them is when it comes to reading. Creating a group of ESL readers helps them to build confidence and to mingle with other ESL students who share their struggles.
The ESL experts at YourDictionary have prepared a sample lesson plan for Characters and Their Character as a great example of a group reading activity. It is included as a printable .pdf file at the beginning of this article.
The elementary school years are definitely a sensitive time, so incorporating these techniques will help to increase a student's confidence and ability.