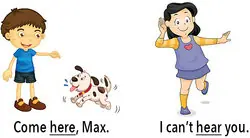 For those just learning the English language, there are many words that sound alike and may be confused by ESL students. These words often sound the same, and are spelled similarly, but are just different enough to cause confusion, even among native English speakers.
Words that having similar sounds are called homonyms. Within the category of homonyms are two commonly confused concepts: homographs and homophones.
Homographs are words that are may have the same spelling, but have different meanings and that may have different pronunciations. For example, "does" are female deer, and "does" is a verb form of "do." Both terms are spelled the same but have different meanings, and therefore are homographs.
Homophones are words that sound the same, but have different meanings and different spellings. Examples of homophones, which will be explored later, include "to," "too," and "two," as well as "hear" and "here."
While homographs can confuse those new to the English language, homophones typically pose more challenges. Consider some of the most commonly confused terms by English and non-English speakers alike, and how to try to differentiate these terms:
The term "effect" is a noun, and it means the result or product of something. The term "affect" is a verb, and it means to influence something. Effect and affect are perhaps two of the most common words that sound alike and may be confused by ESL students.
To help differentiate affect and effect, remember that affect is a verb that shows an action - the "a" in action and the "a" in affect should help you remember that affect is an action, a verb.
Their, There, and They're
Another set of words that sound alike and may be confused by ESL students is "their," "there," and "they're." Their is a possessive, referring to something that belongs to them. There is where something is located, as in "the book is over there." The term "they're" is a contraction of two other words, "they" and "are" or "were." It takes a lot of practice to keep these three words straight. One sentence that can help keep the three homophones straight is "Their fishing poles, which they're using on the camping trip, are over there."
Another commonly confused set of words is "here" and "hear." Here, like there, refers to a location, as in "Your parents are coming over here." Hear, on the other hand, refers to a sense, where we use our ears to listen. The simplest way not to confuse these two words is to remember that hear has the word "ear" in it, and we use our ears to hear.
The words "two," "to," and "too" are also very commonly confused when learning to write in English, even among those who grew up speaking the language. Two is the number 2 spelled out. To is a preposition, as in coming to a place. Too is an adverb, which means in addition to, or also.
The words "accept" and "except" are also homophones. Accept is a verb that means to receive and consent to something. Except is a preposition that means something is to be excluded.
Master the Words Through Practice
There are several additional examples of homophones, words that sound alike and may be confused by ESL students. Students are encouraged to practice reading, writing, and using these words in various contexts to assist in their mastery.