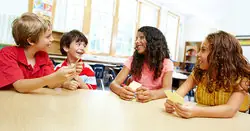 How to Use ESL Flashcards
Flashcards are a great way for ESL students to practice English words. Flashcards are best used to help beginning ESL students master pronunciation and word association.
ESL flashcards come in a variety of formats. Some feature a picture with the word below. Others feature the native language word on one side and the English translation on the other. The most common free flashcards have only a picture or word printed on them. It's up to the student to figure out the correct answer.
You can find and print ESL flashcards or use interactive flashcard tools. These websites allow you to practice directly on your computer screen without printing the cards.
Using these free cards will take some investment. You will need to print, cut and laminate the cards. This will still cost far less than purchasing them.
You can quiz yourself or someone else, or you can play games with flashcards. Some common flashcard games include:
Matching: In this game, the players take turns matching cards.
Go Fish: Players take turns asking each other for a specific card. If the player has the card, he must give it to the asking player.
Bring Me: In this game, the cards are either hidden or placed at the other end of the room. The leader asks the students to bring a specific card.
For more information on flashcards to download or flashcard games, see BogglesWorld or ESLJunction.
Finding ESL Free Flashcards
Because of the wide variety of nouns in the English language, flashcards are commonly grouped by subject matter. For instance, nouns that describe clothes would be grouped together. It is a good idea to focus on one group of nouns at a time to simplify the learning process.
You can download free ESL flashcards from:
Make Your Own ESL Flashcards
If you can't find a set of ESL flashcards for the words you want to teach or learn, you can always make your own. Follow these simple steps:
Decide what size you want your cards to be.
Using a program like Microsoft Word or Works, set up a table to fit your size. Each table cell will become one flashcard.
Add the content you want to print on the card. You can add words only, pictures only or both.
Print out your flashcards. Match the front to the backs. Glue or tape them together and you are all set to go!
It's important not to overuse flashcards. Students must use words in context to truly understand their meaning.