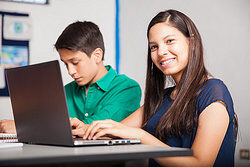 While developing a broad mastery of English vocabulary is important, it's also necessary to understand the principles of basic English grammar. Vocabulary gives you the words you need to express yourself, while grammar helps you speak and write clearly so that others can understand what you are trying to say. Fortunately, students interested in learning English as a second language have a number of online resources available to make the process of developing grammar skills much easier.
YourDictionary.com: A Grammar Tool
ESL English Grammar Resources
If you're interested in learning more about basic English grammar, yourdictionary.com recommends the following websites:
ESL Resources in Your Community
If you find yourself struggling to master basic English grammar, there may be ESL classes available in your community. In fact, ESL programs are now considered to be the fastest growing component of adult education programs in the United States.
Many schools, churches, and non-profit organizations have free or reduced-price classes to help students who are interested in improving their English proficiency. Classes are often offered on nights or weekends to accommodate work schedules and childcare assistance may be available in some areas.