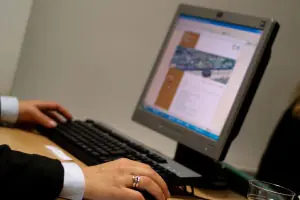 Educators and students alike have begun to discover how beneficial enrolling in a free ESL Internet class can be. Older ESL students often have work and family commitments that make enrolling in traditional courses difficult. Today, however, many organizations, universities, school districts, and individuals host web sites dedicated to the free instruction of ESL. Some of the sites simply post individual exercises, but others host classes that meet on multiple occasions. Some even host semester long courses complete with the same methodology, theory, and instruction tips that are included in traditional coursework.
Finding a Free ESL Internet Class
The sites listed below should be considered the tip of the iceberg. They have been carefully selected because of the quality of the content they provide and are free of charge.
Consult the following websites to start to get an idea of the kinds of resources that are available to second language students today:
StudyCom: Study.com provides both real-time ESL courses and asynchronous ESL courses online. The courses are led by a trained ESL instructor and are administered in a chat forum. A schedule is provided, and students can sign up to attend these free classes whenever they like.
Englishpage: English page is a clean, well-organized web site that provides a wealth of useful English exercises, dictionaries, forums, information about English schools, and much more.
EnglishClub: English Club is an ESL oriented web site that provides content for both students and instructors. There is so much content here that some people might be unable to sift through it in a productive way, but don't be discouraged. Take your time and explore the various areas the site offers including English reading, writing, and speaking lessons. Articles about the state of the ESL discipline are also present as well as information for business students and older students. This is a truly robust online ESL environment.
What Constitutes an Online ESL Class?
When you look through these sites, you may start to wonder what qualifies someone to call what they offer a class? Technically, a class at a traditional university invests the class with a value that the students can use towards an eventual degree. The ESL Internet class you enroll in online will not be like this. It might have an instructor, and you might be graded or scored, but it will not be a for-credit, traditional course in the same way you might remember from either public or private educational systems.
Traditional kinds of courses can certainly be enrolled in online. They are usually administered through universities and corporate institutions, but they are rarely, if ever, free.
When looking at these free sites, keep an open mind. Try to find a way to bring yourself into contact with as much useful instruction as you can without having to open your wallet. You can always pay to attend a more structured class at a later date, but you might as well see what is out there for free before you do so.