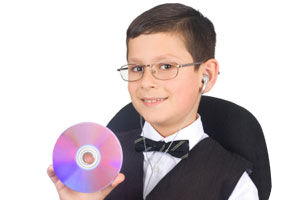 DVDs for children learning English as a second language combine audio and visual elements to teach language concepts in a fun way. This is one way parents can help their ESL children learn and help teachers appeal to visual ESL learners.
Features of Children's ESL DVDs
There are many different DVDs designed to assist children in learning English. These can be valuable resources to aid in comprehension as well as understanding grammar and language rules.
Features parents and educators may want to consider include:
Sets and programs - DVDs that come in sets or progressive volumes to assist the child's transition as he moves from one level of learning to the next. Some parents and educators may also find that a combined program of tools such as DVDs, CDs, computer software, and books is helpful to provide many different teaching methods.
Fun characters - English as second language DVDs that have interesting and colorful puppets or characters to capture the child's interest and keep them engaged in learning.
Lifestyle concepts - DVDs that incorporate familiar items and concepts, such as pets and animals, parts of the body, food/eating, and daily activities.
Use of repetition - DVD lessons that use repetition and/or ESL songs to reinforce words and language skills.
Use of activities - Interactive DVDs that allow the child to respond or that include activities to reinforce the lesson.
Popular ESL DVDs for Children
There are a variety of popular ESL DVDs for children, ranging from programs designed for the youngest learners to DVDs that explain more advanced concepts. These DVDs can be purchased at education stores and online venues.
ESL Tapes has three DVD ESL sets for children. The English Interactive for Beginners DVD is a fun and colorful two DVD set that is designed to help teach basic English skills for ESL students. Eighteen chapters and many interactive exercises make this a good choice for independent study. ESL Tapes also offers two series designed for very young learners; their Bridge to English Before You Can Walk and Bridge to English Fairytale Learning use repetition and colorful presentations to teach children between the ages of eight months and five years.
Muzzy ESL from Early Advantage offers two levels of DVD sets to teach English as a second language to children with fun animation and songs. Muzzy has both home and classroom editions that utilize a "see-listen-and-learn" technique and offer a 100% satisfaction guarantee.
The Blip and Blap Language Explorers ESL DVD series is designed by the American Video Language Institute. This fun four-DVD set has versions for native Chinese, Korean, Portuguese, Spanish, or Vietnamese speakers. This series is for children from four to twelve.
Tips on Using Children's ESL DVDs
Cost and payments - Although English as a second language DVD programs can be valuable learning tools, they can also be quite expensive. For teachers and educators, mini grants may be available to help cover some or all of the cost of these DVDs to use in the classroom. Some companies do allow customers to make monthly payments to help make the cost more manageable as well.
Library access - Another option is to check with the public library; even if your library doesn't have ESL DVDs for children on hand, the librarian can request them from another branch or network library.
Multiple methods - Use varying methods of instruction for teaching children English as a second language. Children may be able to grasp words and concepts more easily if they are approached several different ways, and DVDs can be a fun way to reward children for doing well in other lessons, or used to reinforce things the children have already learned through one-on-one or classroom interaction.
Watch with children - Watch ESL DVDs with children when possible. Ask questions and give assistance when needed to keep a child from feeling frustrated with the interactive elements.
Short sessions - Keep DVD sessions short to keep children from being overwhelmed or losing interest.
Using ESL DVDs for children is a wonderful way to emphasize and bring words and concepts to life, but they don't replace one-on-one and classroom instruction. Children also need other types of lessons and extensive practice with the written form of English to be able to read and write in the language. Use DVDs in conjunction with other learning methods, and children will be well on their way to successfully communicating in English.