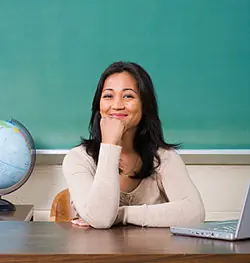 Developing and stating a philosophy of education is becoming the norm for all teachers, including ESL teachers. If you want to be competitive in the ESL job market, you have to perfect your personal statement about why you teach ESL.
Building Your Philosophy of Education
Simply put, your education philosophy is a statement of why you teach and what you think teachers should deliver to their students.
Do you think that teachers are there to gently guide students as they develop their own areas of interests?
Do you think a teacher's role is to make sure students are armed with a strong foundation of basic knowledge?
Your educational philosophy tells prospective employers how you view education, and in turn, what kind of teacher you will be. It permeates everything you do as a teacher: It shapes what kind of lesson plans you choose, how you set up your classroom and the kinds of relationships you have with your students.
Having said that, it is important to note that there is no "right" educational philosophy. When a prospective employer wants to know your ESL philosophy of education, they are trying to determine if your outlook matches the educational philosophy of the school. If you don't find a perfect fit, it doesn't mean that your philosophy is wrong or that you need to tailor it for future interviews. It simply means that you need to keep looking for a school that does fit in with your perspectives on education.
Common Philosophies of Education
In the education profession, it is common to talk about five main schools of thought on education:
Liberal Philosophy: Intellectual development takes center stage here, with lesson plans and courses designed to hone abilities of critical thinking and logic.
Behavioral Philosophy: According to behavioral philosophy, education should instill "survival skills" in a student that they will be able to use to navigate any situation.
Progressive Philosophy: Education is about promoting cultural and social development and change, according to progressive thought.
Humanistic Philosophy: The humanistic approach says that the whole individual should be nurtured through education.
Radical Philosophy: Similar to progressive philosophies, radical educational philosophies state that education should be a means of instilling a desire to fight for political and economic changes in students.
Within these five general areas, there are many differing versions of educational philosophies. Many teachers find that they don't fall neatly into one area or another. These five areas are more guidelines than rules. It is perfectly acceptable for your philosophy to borrow a little bit from a few different schools of thought.
Stating Your ESL Philosophy of Education
Although you need to be comfortable with your ability to confidently articulate your ESL philosophy of education in a job interview, the first place potential employers should encounter your statement of philosophy is on your CV or teaching portfolio. This statement is a critical part of any ESL teacher's resume.
When stating your philosophy, be sure to tailor your words so that your statement applies specifically to your outlook on teaching English as a second language. The rich cultural environment of ESL classrooms is fertile ground for teachers who are interested in doing more than picking up a paycheck. Using your philosophy statement to prove you consider ESL to be a unique field will be highly impressive to prospective employers.
A well developed statement of educational philosophy is also the first step in moving from ESL jobs on the low end of the pay scale to higher salaried positions. If you want to move into a particular field of ESL education, such as business English, it is a good idea to make sure your philosophy statement states what you view to be your goals in teaching students within that field.