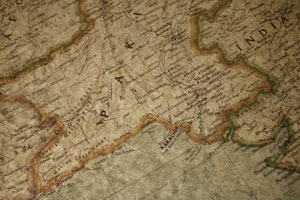 Have you ever dreamed of teaching English as a second language in Pakistan? Pakistan is a nation with a rich history located in South Asia bordering India, China, Iran, and Afghanistan. The major city is Karachi, which has a population of over 12 million people. This nation also has the second largest Muslim population in the world.
Growth of ESL Needs In Pakistan
Like much of the world, Pakistan is experiencing the effects of globalization. The country is considered an emerging nation with a rapidly growing economy. Many of the outsourced service jobs from the United States have been exported to Pakistan and other nations in the region. This has drastically changed Pakistan's cultural landscape in the past generation, and a rapidly growing middle class has developed.
One of the results of these changes is an increasing interest in English language education. While Pakistan does not have as developed an English teaching system as other areas of the world, it is quickly catching up. There are opportunities to teach English in Pakistan if you are determined and somewhat flexible.
Internet Resources for Teaching ESL in Pakistan
Society of Pakistan English Language Teachers (SPELT): The site for the Society of Pakistan English Learning Teachers is an excellent resource if you are considering teaching English as a second language in Pakistan. SPELT's goals are to train and support educators, organize conferences, hold monthly academic sessions, and share information about jobs and career growth.
British Council Pakistan: British Council Pakistan is committed to preparing English language teachers to work in Pakistan and other locations around the globe. This organization provides access to a wealth of online information, networking opportunities, and news on events that relate to teaching English internationally.
Dave's ESL Café: If you're considering teaching anywhere in the world, make sure you check out and subscribe to Dave's ESL Café. This resource has been around for years and has grown from a casual place where teachers shared stories and information to an organized, professional cornerstone of the international teaching community.
Finding a Teaching Job in Pakistan
Christian Teaching Opportunities: Over 750 teaching positions are filled every year by the Association of Christian Schools International. The program is specifically oriented towards Christian teachers who want to work in Christian schools.
SABIS School Network: The SABIS school network fills teacher positions in 14 countries around the world. One of the locations that they offer work is in Lahore, Pakistan. Most schools SABIS serves are in Africa and the Middle East. The organization wants to offer students a quality education to prepare them for the contemporary, rapidly changing world.
English Teaching Volunteer Work in Pakistan: This article from Projects Abroad details the growing community of teachers who are volunteering their services in Pakistan. Because of the close ties between the British and the Pakistani communities, many of the teachers who volunteer are British. However, this article is informative for anyone who is considering teaching English in Pakistan.
Other Resources
The following books will help to shed some light on what teachers can expect when they take a teaching assignment in Pakistan:
Culture Shock! Pakistan: This book is part of a series published by Kuperard that introduces westerners to the customs and etiquettes of non-western nations. Customary issues such as tipping, business relationships, religions practices, and more are explained in detail. This kind of information will make newcomers feel more confident when they begin to interact with the people of Pakistan.
Lonely Planet: Pakistan & the Karakoram Highway: Lonely Planet is one of the most respected travel book publishers in the world. You can be confident that the information you obtain from an LP travel guide will be pragmatic, honest, and up-to-date. This is an essential book to take with you on your teaching assignment.